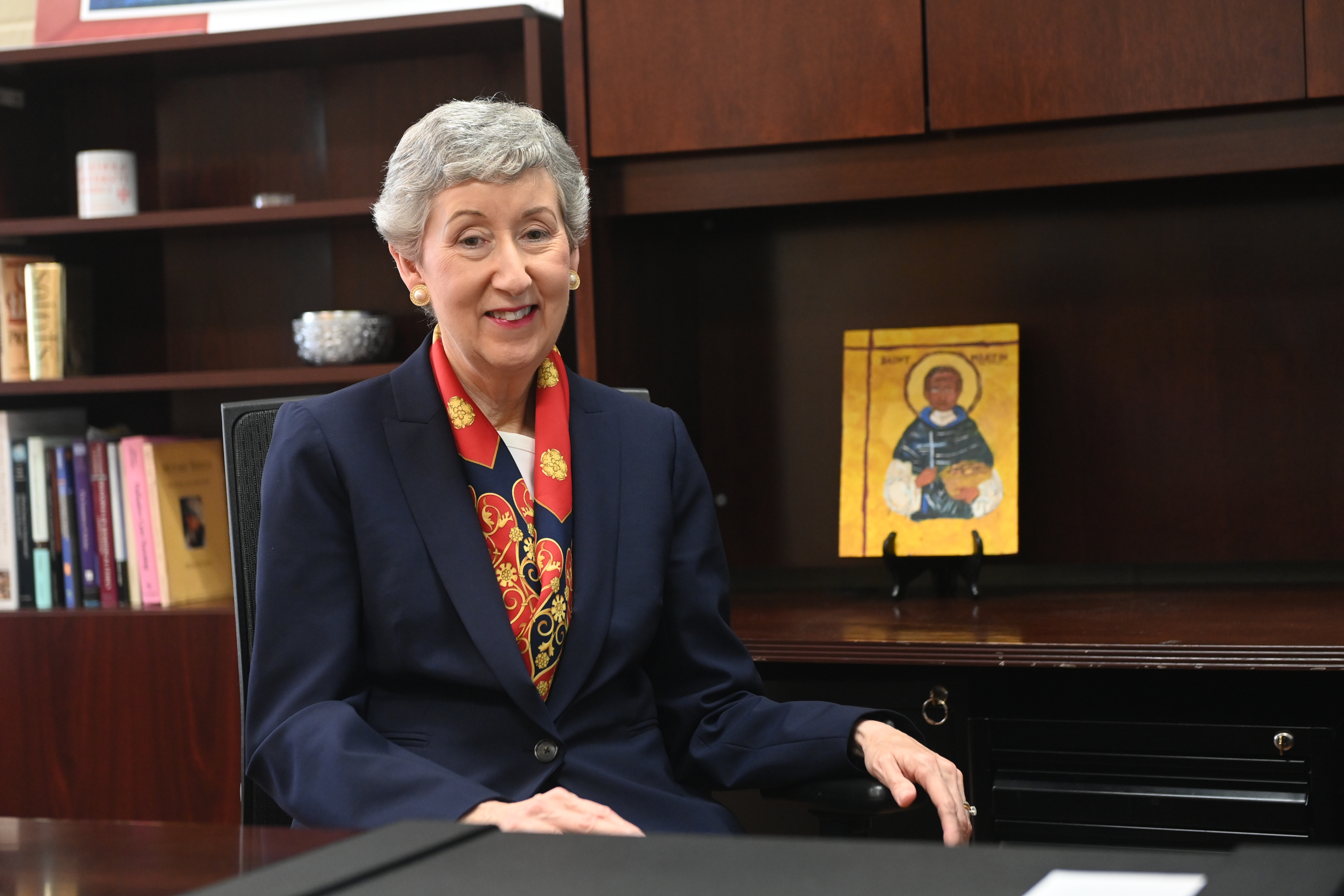 Bring your whole self – mind, body and spirit.  That's the opportunity here at the Conway School of Nursing at The Catholic University of America, where we prepare nurse leaders, not just for a fulfilling career of caring and healing, but also to be a light to the world.
To be a Conway School of Nursing graduate, is to find joy in life guided by the "Trilogy Model" of nursing grounded in three life-affirming principles:
Human Dignity
We recognize the immeasurable value of every person.  It is our privilege to serve individuals at their most vulnerable and accompany them on their journey in health and illness, from the beginning of life until its natural end.
Human Freedom
We cherish the freedom to exercise one's conscience.  Graduates of the Conway School of Nursing are prepared as moral leaders in healthcare, guided by faith and ethics and supported by a worldwide community of faith.
 
Human Flourishing
We believe in each individual's life-long journey to achieve the good.  Conway Graduates have a calling to caring with the understanding that promoting the wellbeing of individuals, families and communities, is the foundation for a happy life in nursing.
You will love working with our faculty who are expert clinicians, educators and nurse scientists with national and international reputations for transforming nursing and healthcare.  Our beautiful campus is located in Washington, D.C., where you will have access to opportunities in health policy, research and clinical practice in some of the nation's leading academic medical centers and specialty hospitals with the latest technology and innovation such as The Washington Hospital Center, the region's leading trauma center and The Children's National Medical Center. 
Washington, D.C. is also a thriving cultural center, where you will have access to the free museums of the Smithsonian, the National Gallery as well as music, restaurants, and the beautiful and inspiring Basilica of the National Shrine of the Immaculate Conception, which sits on the edge of our campus.
All members of the Conway School of Nursing Community are invested in your success, whether you are new to nursing or advancing your career as a leader in practice or nursing science.  The relationships you develop with the faculty, staff and fellow students will remain with you for lifetime.  I know, because I am also a graduate of the Catholic University Conway School of Nursing.
Welcome to the Conway School of Nursing at The Catholic University of America.
Marie T. Nolan, PhD, RN, FAAN
Dean and Professor
Perkins, I. & Roberts, A.H. (2021). The Trilogy of Health Care: Caring and the Healing of the Clinician. The Linacre Quarterly, 89:1, 101-110.