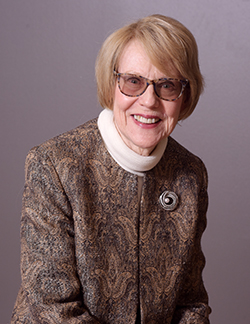 School
Conway School of Nursing
Eileen V. Caulfield, PhD, RN, NEA-BC, Associate Dean for the Baccalaureate Program has over 40 years of leadership in nursing services administration and academic nursing. Dr. Caulfield retired as a Colonel in the U.S. Army after 28 years of service; five on active duty and 23 as a reservist. She served first as a critical care bedside nurse and assumed leadership positions when recalled to active duty and was assigned then as a Critical Care Nursing Research Coordinator and later as the Chief of Nursing Performance Improvement at Walter Reed Army Medical Center in Washington DC. As a reservist she served as Chief Nurse in the 4214 th US Army Hospital in Baltimore and Chief Nurse, Critical Care Nursing, 2290 th US Army Hospital. During her service, she received 3 US Army Meritorious Medals and 4 US Army Commendation Medals. Dr. Caulfield also served for 10 years in various leadership positions at INOVA Fairfax Hospital including Coordinator for Nursing Education, Research Analyst for Trauma Services and INOVA Research Center and IRB Manager. She also served for seven years as Director of Nursing Practice, Education & Research at Prince William Medical Center in Manassas, VA. Dr. Caulfield is nationally certified as an Advanced Nurse Executive.
Dr. Caulfield has also served as a leader in academic nursing. For seven years, she served in various leadership position at Marymount University in Arlington, VA including Chair and Assistant Chair of Undergraduate Nursing Program. She also taught both clinical and theory courses at the Baccalaureate and Doctor of Nursing Practice (DNP) levels. Prior to her leadership appointments at Marymount, Dr. Caulfield also taught undergraduate and graduate nursing courses for seven years at Georgetown University in Washington, DC and for two years at George Mason University in Virginia.
Dr. Caulfield's research and scholarship has focused on nursing education and evidence-based practice. She has published her work in international and national peer-reviewed journals and has made contributions as an author to seminal texts in nursing such as Professional Practice Models in Nursing: Successful Health System Integration, Springer Publishing.